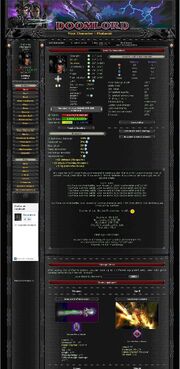 Doomlord is a fairly simple game and easy to work through, but this is just a menu to link everything together.
Activities
Edit
Hunt- Where you hunt creatures down for soul-energy
Duel- Where you can attack other players
Rest- Where you can bandage your wounds
Soul-Huckster- Where you can buy basic equipment
Clan- The homepage of your clan
Pets- The management of your pets
Quests- Your active quests
Auction Hall- Special relics can be obtained here
Adventures- Where you can complete player-written adventures
Misc- Where most events are found, along with the infection, specialisation, acceleration + more
Information
Edit
Your Character- A page showing all your stats, weapons, descriptions etc.
Skills- A list of all trainable skills
Previous Battles- Displays your battle history
Messages- All messages sent/received can be found here
Events- These are events that are personal to you, ie. someone cursing you, levelling up, a pet levelling up etc.
Highscores- A list of all characters on the server showing lots of comparable stats.
Legend- The story behind the gameplay
Help- A list of areas where help can be found (of course there's always this site!)
Quiz- Where you can write quizes and earn soul-energy
Rules- The rules of the game
FAQ- A simple list of answered questions
Forum- This is one of the most useful sources of information in the game!
Premium- The place to buy some premium features
Ancient Stones- The place to buy ancient stones
Recommendation- Various links to entice other players into the game.